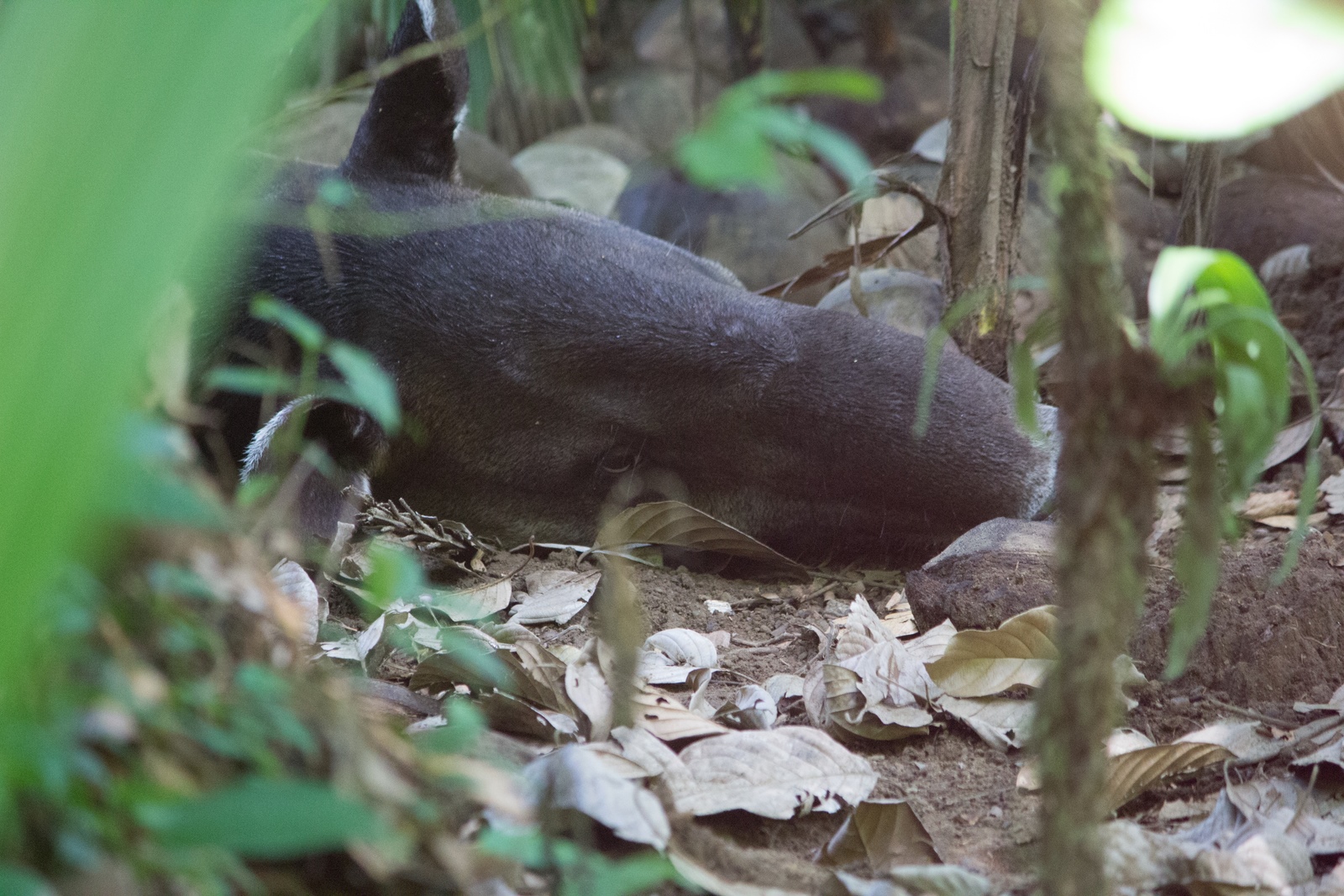 Discover the wonders of Corcovado
Summary:
J10 – 24 March: Multiple hikes around the Sirena to discover the flora and fauna
J11 – March 25: Departure at dawn for Carate and then minibus to Puerto Jimenez
In detail:
The alarm clock is nocturnal in order to see some animals. The night was hot, wet, sweltering and in "bonus", an English-speaking teenager stuck to our mosquito net tent.
We leave without breakfast with front in the jungle (like many other groups). The guide seeks the tapir in vain. We find a baby caiman. The guide wants us to cross a river north of the Sirena but the water level is too high… This first outing is a bit disappointing.
We leave after a good breakfast. The guide runs off the plane runway, encouraging us to follow him. We don't understand. 50 to 70 meters further, a huge boa has just crossed the airstrip and sinks into the tall grass.
From this moment on, it will be a festival of discovery:
On the hike south of the Sirena, it is possible to find a pool and a short water to swim in. When we arrive, 3 French people tell us the story that has just happened to them. He was swimming in the middle of the lake and suddenly they saw a crocodile a few meters away from them. We won't bathe 🙂
After a great day, we invite our guide to share the meal. I have the impression that there are few of us to do so. The next day, you have to leave early for the tides. I'm not very convinced.
Here are the animals we saw on this second day:
Coati, toucans, boa, tapir, sloth (small), squirrel and spider monkey, michael jackson bird, eyelash pit viper, turkey (yellow head), baby caiman, crocodile, peccary, grasshopper (huge), basil JC, falcon, blue morpho-eating bird, agouti
Notre itinéraire :
J1 : Arrivée à 22h, Nuit à Alajuela
J2 : Monteverde
J3 : Monteverde
J4 : Tenorio
J5 : Rincon de la Vieja
J6 : Corozalito
J7 : Corozalito
J8 : Uvita
J9 : Puerto Jimenez
J10 : Corcovado
J11 : Corcovado
J12 : Puerto Jimenez
J13 : Puerto Viejo
J14 : Puerto Viejo
J15 : Puerto Viejo
J16 : Puerto Viejo
J17 : Route pour aéroport, départ 17h