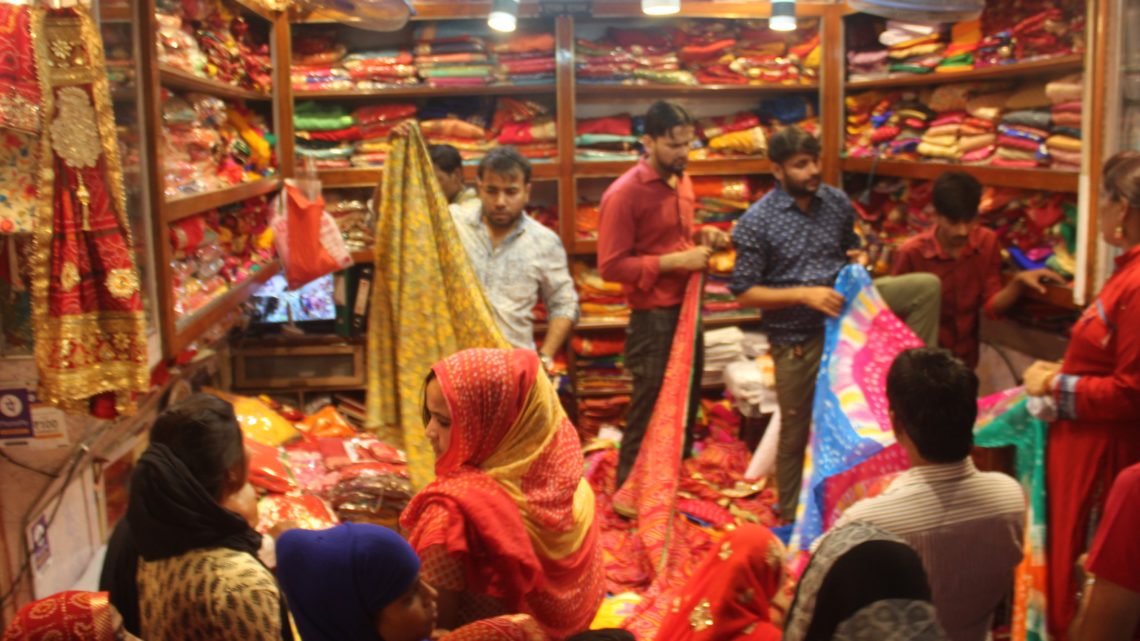 Jaipur, carpet trading and bazaar
D8: Jaipur
4/4/2019
After a first day of sightseeing, we start a day of adventure. It starts with a spicy noodle breakfast followed by a tourista. Enough to "piment" our next trips.
Since the beginning of the stay, we have been looking for THE exchange rate. This is the priority 1 of our day because we have no cash. We're going to the Johari Bazar. All stores are closed due to a party so we decide to go to our appointment largely late with our meeting yesterday and his wife. On the way, he finds us!
He accepts our apologies for the delay and we discuss on the edge of the steps of a temple. His wife's home. In anticipation of his friend's wedding, they danced all night. He encourages me to eat Lassi banana to treat my digestion. I choose Coke. His wife is going to make him the stuffed tomatoes today. One of the French dishes that came to mind the day before.
It's time to let go. He approaches a tuktuk and asks him to take us to the suburbs of Jaipur to an address that makes Rajasthanis carpets. We had talked about it the day before. We already bought a Tabriz carpet in Isfahan, Iran.
So we meet Sohan, the driver and go on an adventure in the hellish traffic of Jaipur.
We are in Gujargati, not far from Jahal Mahal, at Saraswati Private Limited. The stock of carpets is important and as part of the negotiation, the seller shows us several phases of making a carpet in the warehouse behind the sales space.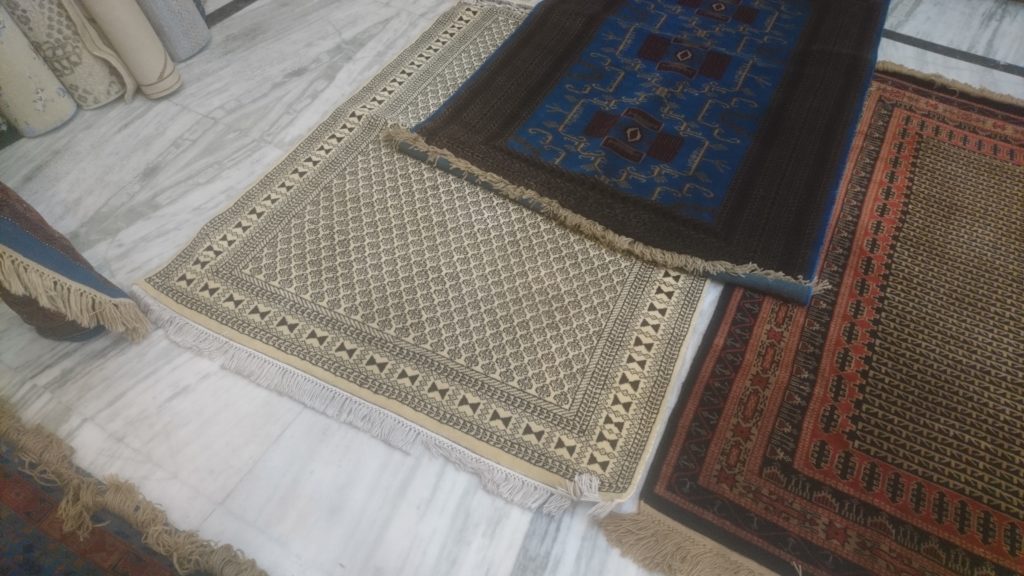 If I were to describe the scenario with the carpet seller:
– put at ease
– present a succession of carpets
– give a first prize
– justify the price with a free shipping fee
– explain that they sell all over the world including in the United States
– explain that they have a lot of employees
At this point, you feel a privileged customer to be given a little time because the business is elsewhere. A slight sense of guilt may arise.
Your offer will be well below the price.
– the seller will become super friendly and ask questions about what you do, your trip… to fuel the relationship of trust
– a chai/tea and water will be brought
– the seller concedes 5% off because you do not choose shipping.
– it asks you if you don't want to take more carpet or take a smaller version.
At this point, it's going to take time. If you have a model in mind. Don't show your favorite. Show the opposite.
– sellers understand French and will skilfully try to prevent you from chatting with your spouse for example so it may be wise to use French to distill fine messages: no crush, no need immediately, come back later or leave.
– the calculator is tense, the price is not suitable.
– it's time to leave! Get some fresh air.
– redo a final proposal.
– the seller will grant an exceptional discount (10%) but not your price.
– Hold your line and get ready to go. One of you can get into the vehicle to show your determinations.
– The seller eventually aligns.
In short, we bought a carpet with more than 20% off. We've probably been having it so feel free to complete my script as a comment if you see other steps/situations 🙂
We meet Sohan and go to another address for textiles. The same skit happens with the scarves in Pashmina (2500r becomes 1000r).
A later Lassi (the famous), we leave Sohan with a good tip at the entrance to the old town. He admits to stopping at this address every day.
After a break at the hotel, we leave. The closed stores have opened. We go to a bazaar where many women discuss the piece of cloth.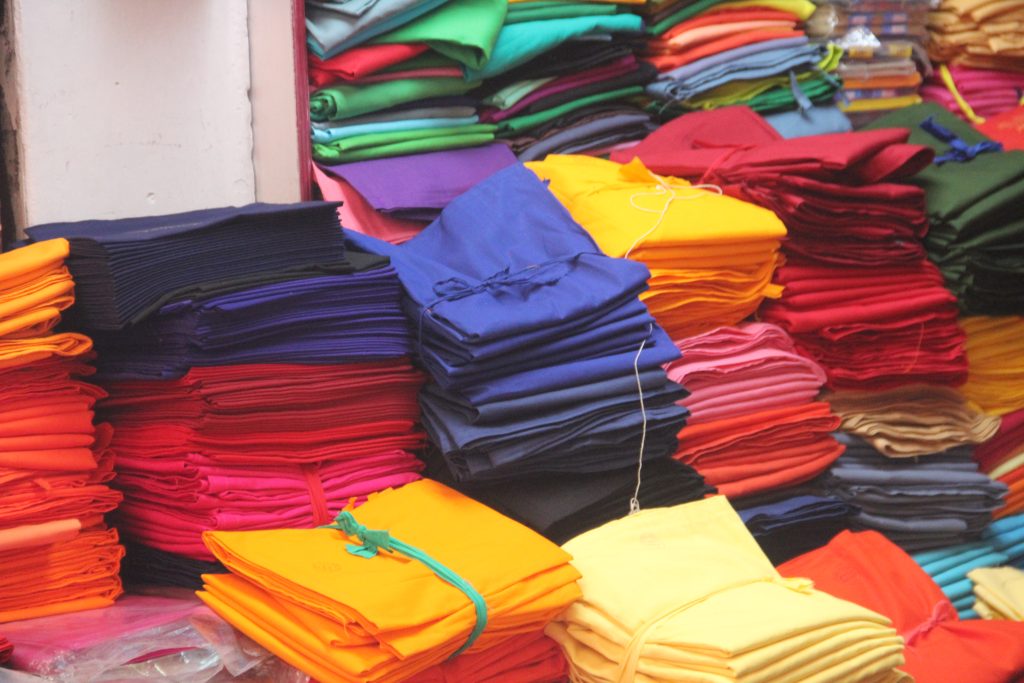 It's weird to see so many. They are usually assigned at home so we see a lot of men everywhere who look insistently at the Westerners.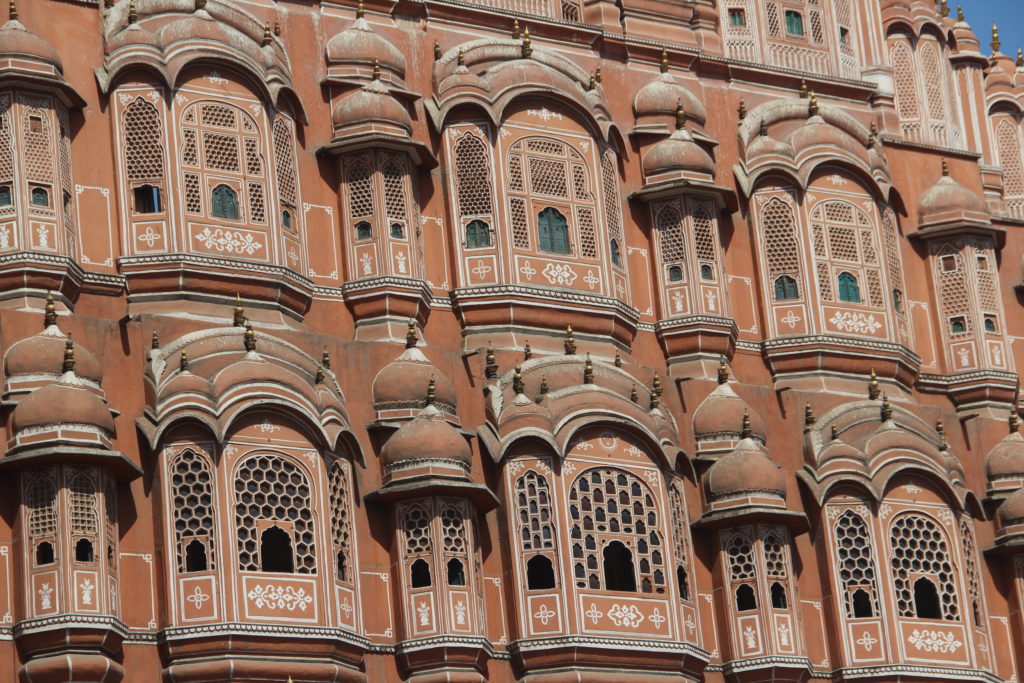 An eye to the Wind Palace, the city palace and the astronomy palace. We will come back to visit them on another trip 😉
It's time to leave to catch our train to Bharatpur. The tuktuk takes us painfully to the station in the hellish traffic.
The carpet on the top of my bag adds height (although it is folded and packed). Travellers look at us astonished. There are porters in the stations but we don't have too much confidence.
The wagon will be crowded from start to finish with a constant smell of crap 🙂
Our itinerary: