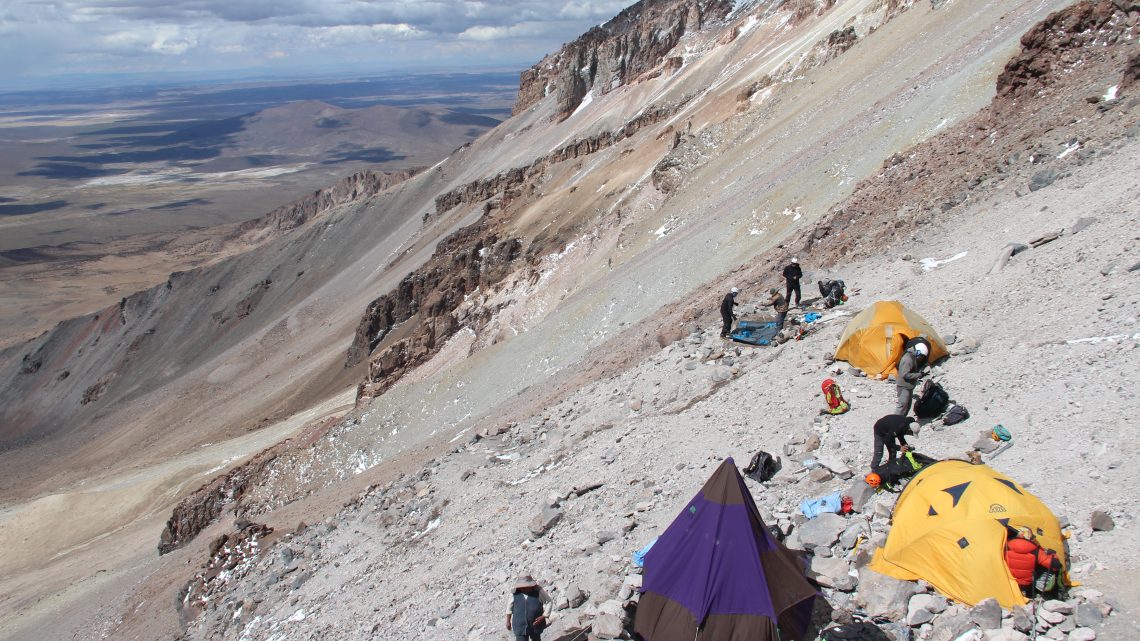 Climb to Sajama high-altitude camp
D14: 9/17/2017
In the morning until 8am, the sun touches the tent around 8.30am while we have breakfast. Around 10am, everything is folded and we leave slowly towards the altitude camp.
From the base camp, looking at the Sajama, the altitude camp is behind the rock block most to the left on the ridge that seems to rise to the top. It seems almost easy.
We're slowly going up. We stop every hour. The first part is simple. It climbs in iso, it's not steep. We're crossing up. In this mineral universe, I wonder what they can eat!
The lunch break is at the foot of a huge, steep pierrier. Eugenia offers us stuffed sweet potatoes. The headache is approaching.
The rest of the path is lost in the pierrier. We meet the porters, they have already set up our equipment and tents! The steps become higher and higher as we enter a very steep corridor.
The pause frequency increases. The top of the kitchen tent is visible. Glad to get to 5600m (new record).
The altitude camp can accommodate 7-8 tents. It is located on an ridge and is particularly exposed to wind. We hold the tents with big stones. The view is exceptional and the sun is beating. It's cool outside but in the tent it's something else.
Only the kitchen tent was set up at the altitude camp. Not sure there was room for a second on the narrow ridge. Eugenia allows us to share the place for dinner.
A special atmosphere reigns as if one were entering the teepee of a shaman. It's dark, hot and humid. The stove in the middle is covered by bowls that give off perfumes. Eugenia handles the few utensils she has to prepare a soup and a dish capable of making 5 people walk on the 900m of vertical drop remaining for the summit. A huge kitchen knife becomes a box opener. The large blue bag filled with snow takes a person's place in a corner of the round tent. We brought back flat stones to sit down.
We discuss the phases of the ascent for the next day. The view from our ridge does not allow us to imagine what awaits us. The plan shared by Marcello and Hilarion is: wake up at 2am, 1 hour of climb without crampon and then we attack the glacier famous for its penitents. Penitents are mounds of snow and ice formed by strong winds. Their shape is reminiscent of penitents. You have to be prepared for wind but no more than 30km/h according to the weather report.
Appetite is lacking at 5600m. We hydrate as much as we can before reaching our tents around 7:30 p.m. The sun went down, the temperature dropped to close to 0 or less. The wind is increasing…
Notre itinéraire en Bolivie :
J1 : Premier pas dans l'altiplano
J3 : Vestige Inca et Isla del sol
J5 : Du folklore à la cordillère royale
J6 : Trek d'Ajwani à Juri Quota
J7 : Trek jusqu'au camp de base du Condoriri
J8 : Ascension du Pequeno Alpamayo et retour sur La Paz
J9 : Vallée des âmes
J10 : De La Paz au Salar d'Uyuni
J11 : Tunupa et Salar d'Uyuni
J12 : Uyuni à Sajama en longeant la frontière chilienne
J13 : Découverte du parc national de Sajama
J14 : Montée au camp d'altitude du Sajama
J15 : Sans ascension du Sajama
J16 : Viscachas et Curahuara
J17 : Camp d'altitude de l'Illimani
J18 : Ascension de l'Illimani
J19 : Canyon de palca