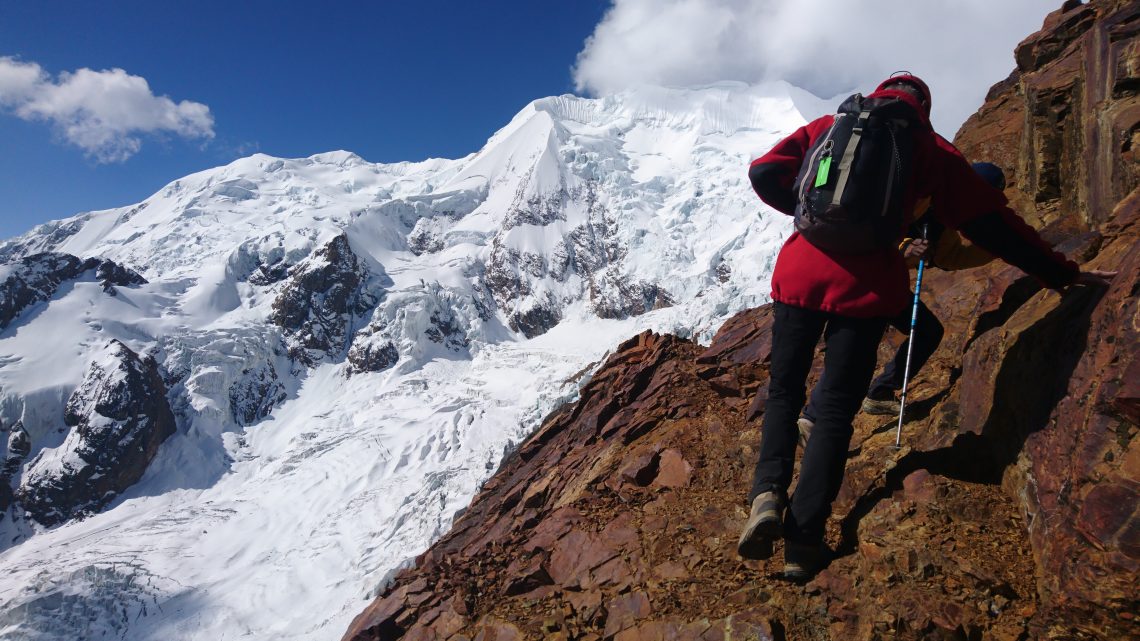 Illimani High Altitude Camp
D17: 9/20/2017
Awakening completely missed. It's 5:45, I'm in the wax, we have to jump in the 4×4 for a 4 hour drive to the Illimani base camp.
Illimani is a famous mountain because it is visible from La Paz. It is a 6400 and a few meters (6462m). I would remember each of these meters when I walked them (in pain). A large glacier covers this mountain and rises above the surrounding mountains.
Access is via a scenic track, vertiginous and of correct quality. Bolivians do not climb much on the Illimani so no paved road.
On the way, we enjoy some beautiful orange cliffs and terraced crops with mountain flan.
We arrive directly at base camp. Usually, you arrive at a village below (Pinaya) and then the climb to the base camp is a first day of walking. It's better for acclimatization.
After a meal at 10:40 in the mess tent (cooked by Eugenia). We leave for the altitude camp which is 900m above.
We walk very slowly behind Hilarion and cross colorful decorations of ochre, yellow, brown, white. It's very beautiful.
Carriers (5) overtake us with heavy loads and basic equipment (sandal !…)
The Illimani massif is covered with several glaciers. You can see snowdrifts, seracs and crevices. At the end of the day, we will hear the crackling of glaciers and avalanches.
The arrival at the altitude camp, the ridge of the Nest of the Condors, 5450m, is appreciated. It's almost hot.
The sunset is very beautiful and the exposure of the altitude camp makes it possible to enjoy it as well as the lights of La Paz and El Alto.
During the night, we will hear a significant avalanche (lasting several minutes). This moment when one wonders if it will not cross the altitude camp … The start is at 2:30 after another group (which will not get up).
Come on, we're climbing, courage!
Notre itinéraire en Bolivie :
J1 : Premier pas dans l'altiplano
J3 : Vestige Inca et Isla del sol
J5 : Du folklore à la cordillère royale
J6 : Trek d'Ajwani à Juri Quota
J7 : Trek jusqu'au camp de base du Condoriri
J8 : Ascension du Pequeno Alpamayo et retour sur La Paz
J9 : Vallée des âmes
J10 : De La Paz au Salar d'Uyuni
J11 : Tunupa et Salar d'Uyuni
J12 : Uyuni à Sajama en longeant la frontière chilienne
J13 : Découverte du parc national de Sajama
J14 : Montée au camp d'altitude du Sajama
J15 : Sans ascension du Sajama
J16 : Viscachas et Curahuara
J17 : Camp d'altitude de l'Illimani
J18 : Ascension de l'Illimani
J19 : Canyon de palca